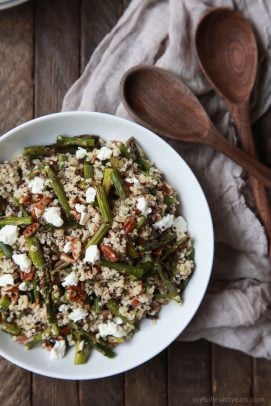 photo & recipe cred to joyfulhealthyeats.com
Possibilities are endless with this one....
I wanted to be sure that my friends had this recipe to try....you know it is easy if I tried it!
With my husband playing sous chef, (while I played taxi driver)- he finished roasting the asparagus and cooked a 1/2 cup of quinoa.
Upon my return, we tossed:
roasted pecans
roasted asparagus cut into 2 inch bites
1/4 cup feta
drizzle of balsamic and olive oil
cooked quinoa
What would I change?
more vegetables: maybe roasted brussels sprouts, sun dried tomatoes- etc
steam the asparagus vs roast
grilled chicken?
Really- this recipe is a base for so many possibilities- let me know if you try your own version ....
p.s. such a good balance of nutrients in this dish including healthy fats from the pecans (especially high in omega 6 fatty acids) plus olive oil, lots of fiber, gluten free
photo & recipe cred go to
http://www.joyfulhealthyeats.com/